Largest Firework Festivals in Tokyo 2019 NEW UPDATE
In Japan, the 花火大会(Hanabi Taikai) or fireworks festival is a symbolic event of summer life in the country. Wildly popular, the festive and romantic atmosphere of Hanabi attracts up to a million of visitors per show in urban areas like Tokyo. People would even visit the place a few hours beforehand to ensure seats for their families and friends.
The first firework show in Japan recorded in history was in the 17th Century. However, It became an annual tradition starting from the Suijin Matsuri(Festival of the God of Water) held in 1733. The original purpose was to purify the spirits of people who died from the famine and the spread of Cholera – which occurred in the previous year. To celebrate this – General 徳川吉宗(Tokugawa Yoshimume) planned a fireworks display during the Suijin Matsuri at Sumida River. This was the beginning of the annual Hanabi Taikai(Fireworks Display) at Sumida River – which soon spread across the Country.
Today, Fireworks displays are held countrywide for with nearly a thousand events taking place every year. If you are living in Japan or traveling during this period, grab this opportunity and participate in a fireworks festival with your family and friends!
Below we have listed a few upcoming Fireworks festivals in Tokyo for the 2019 season
July 27
Sumidagawa Fireworks Festival
隅田川花火大会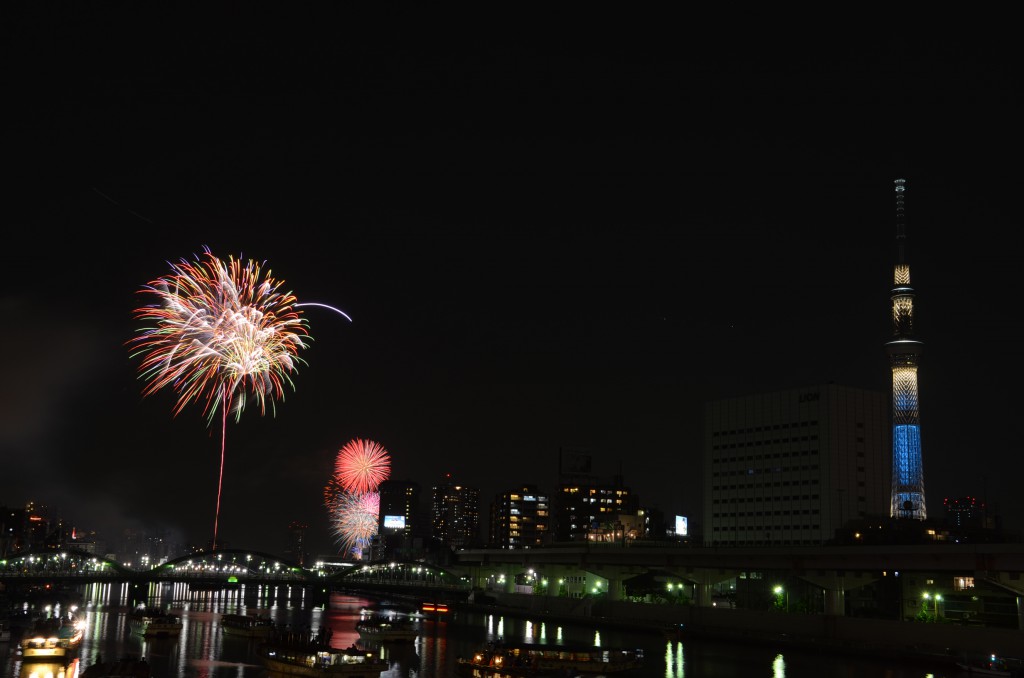 Time:
2019-7-27(Sat) 19:00 ~20:30
---
Place:
Taitō Venue:Sakurabashi area
Second Venue:Komagatabashi area
---
Shots of Firework:
Sakurabashi: 9,350 Shots
Komagatabashi: 11,650 Shots
Map
---
August 3
Edogawa Fireworks Festival
江戸川花火大会

Time:
2019-8-3(Sat) 19:15 ~20:30
---
Place:
Shinozaki Park
---
Shots of Firework:
14,000 Shots
Map
---
August 10
Jingugaien Fireworks Festival
神宮外苑花火大会
Time:
2019-8-10(Sat) 19:30 ~20:30
Place
---
First Venue: Meiji Jingu Baseball Stadium
Second Venue: Chichibunomiya Rugby Stadium
---
Shots of Firework:
10,000 Shots
Map
 Meiji Jingu Baseball Stadium

Chichibunomiya Rugby Stadium