Last Updated on 11.05.2022 by Coto Japanese Language School
Ever imagined yourself being fluent in the Japanese Language? Procrastinating and giving yourself excuses to deter yourself from picking up the language? Then this is the time to start. No more excuses as learning Japanese has never been any more convenient than this. Accessible anywhere and any time as long as you have a smartphone.  Today, we will introduce to you 20 smartphone apps to aid your Japanese learning on the go!
Japanese Reading
Learn Hiragana & Katakana with Dr. Moku
NHK Easy Japanese News
Tango Risto
Mondo
Kanji Senpai (Google Play)
Japanese Writing
Flashcards
Japanese Grammar & Vocabulary
Tae Kim's Guide to Japanese Grammar (App store)
Bunpro
Japanese Dictionaries
imiwa? (App Store)
Takoboto (Google Play)
Yomiwa (App Store)
Waygo
Japanese Games/SNS
Digital Japanese Penpals
Lext Talk (App Store)
Doongle (Google Play)
Hello Talk
1. Japanese Learning Apps for Reading
To start off this blog, let's introduce some Japanese reading apps to help with the identification of basic Hiragana and Katakana, as well as basic Kanji.  It is beneficial to be fluent in identifying and reading Hiragana and Katakana first, before moving on to Kanji.
Learn Hiragana & Katakana with Dr. Moku
Dr. Moku's Hiragana and Katakana Mnemonics are 2 separate apps. One for Hiragana and one for Katakana. In the app,  they associate all the kana with pictures, making it easy for you to remember them.  It is also very efficient as it makes use of mnemonic hacks as compared to just rote memorization, which is a lot more useful when learning vast amounts of information.
NHK Easy Japanese News
This app is a great way to learn Kanji while keeping up with the latest news in Japan. On top of all the kanji appearing in the news articles, there would be furigana provided such that you can familiarise yourself with the various kanji. It also serves as a simple way to practice your Japanese reading skills every day while learning relevant information about what is going on around the world.  This app also has free audio features and the best way to use apps like these is to just set aside a small amount of time daily and focus on putting in the time. Over time, you will see an improvement that is bound to surprise you.
Tango Risto
A Japanese learning app that will allow you to pick the materials that you would like to read and then turn the words into different vocabulary levels. Tango Risto is a graded reading application that is developed by an engineer and researcher of language processing – and on top of a cool story about how it became developed – it has some pretty cool features.
This app is unique because you can import your own documents and read them in Japanese.  If you like learning Japanese through reading books or if you need to be able to understand technical documents, you can also do that. It is also great for studying for the JLPT because the vocabulary and dictionary are color-coded based on the Japanese level.  There is also a flashcard/quiz setting inside the app which allows you to practice JLPT vocabulary and grammar points over time.
Mondo
Mondo is very similar to Tango Risto. However, the main difference is the sources of the news articles that can be read by using the app.
The app's design and user interface is similar in terms of being able to click on a Japanese word and then have an external dictionary feed you the meaning of the word. You can also star words and add them to lists.
One major difference between Tango Risto and Mondo is the social aspect of the "Handshake" feature. It allows you to match with language partners within their learning app network. The maker of this app also has an English reading app in Japan that helps Japanese people learn English.  They have used this unique benefit to their advantage by providing a matching feature for users of the App.
You can find Japanese friends, and friends are learning the Japanese language. When you shake hands with other users, you can connect with them and see their study logs. We recommend mondo as a great way to spend time reading on the train or learning new vocabulary.  It also could be a great way to meet new Japanese language exchange partners.
Kanji Senpai (Google Play)
Kanji Senpai uses a spaced repetition system (SRS) which means that once you learn a kanji character it doesn't go away forever. The characters will come back in later courses to ensure that learned characters don't slip away from your mind. Kanji Senpai incorporates characters that will show up on all levels of the JLPT and offers several ways to study different characters. Users can practice writing characters, create and download custom vocabulary lists and review vocabulary through different quizzes.
2.Japanese Learning Flashcards
Moving on, we will be introducing some apps to help with your memorization of Hiragana, Katakana, Kanji, etc. in the form of flashcards or games.
Anki – Payment required for App Store
Anki is a free SRS system available for studying flashcards both online and offline. Of course, you could just make your own flashcards from real-life pen and paper…but do you really want to? In Anki you can create your own, or you can use one of the thousands of high-quality Japanese flashcard decks already provided.
There is no debate about SRS systems being the best tool to learn Japanese, and Anki is one of the best SRS apps out there.
Anki does have one tiny flaw. The web version of Anki is free for all, and if you are an Android user the app is free for you. The downside is that Apple users will pay a fee to download a mobile version.
Memrise
Memrise has a very user-friendly interface and some seriously great technology on its backend.  There are premium features of the application that are not available to all users. However, the basic functionality and the science-backed learning assets are available to all users. Memrise also utilizes the SRS learning concept. It tracks how long you have studied something and how often you have given correct and incorrect answers. It then quizzes you at the moment where researchers have determined is the most optimal for you to retain the information.
Memrise courses are created by members of the memrise community. There are some very fun and interesting community features such as a global leaderboard which ranks you against other users based on points.  Memrise also conducts paid contests where the heaviest users of the app (users with the most points) get rewarded with money.
The only real downside to the app is that there are so many courses to choose from. Some of the less used courses also do not contain a lot of information.  There are also issues unique to Japanese such as on-yomi or kun-yomi readings not appearing simultaneously.  However, these problems are miniscule and we highly recommend memrise as a great free tool.
Mindsnacks – Limited Free Version
Mindsnacks only has a limited free version unless you decide to pay for the app. However, if you like games, MindSnacks is definitely a very fun way to challenge yourself. This app drills you on basic Japanese kanji, hiragana, and Katakana.
MindSnacks comes with 8 game modes that combine hand-eye coordination, speed drills, arrangement as well as listening comprehension, making it a fun way to learn kanji. MindSnacks is best for beginner learners as the material covered only extends itself to upper beginner topics.  It is also a good way to refresh yourself if you have learned Japanese previously but haven't touched the language recently. 
3. Japanese Learning Apps for Grammar & Vocabulary
In this next section, we will be introducing to you apps that can help you build up your Japanese vocabulary, as well as practice the Japanese Grammar forms.
Tae Kim's Guide to Japanese Grammar (App Store)
The application formerly (still) known as Tae Kim's guide to learning Japanese is a useful electronic textbook/reference app that you can use to teach yourself Japanese grammatical concepts in a linear fashion.
Tae Kim's Guide is a comprehensive reference guide for learning Japanese grammar that has been on the internet for many years now.
Topics covered:
The Japanese Writing System (Hiragana, Katakana, Kanji)
Basic Japanese Grammar (Particles, Gobi, Tense, etc.)
Essential Japanese Grammar (Polite Forms, Conditionals, etc.)
Special Expressions (Causative, Amounts, Honorific, etc.)
Advanced Topics (Formal Expressions, Volitional, etc.)
Bunpro
Bunpro is a new online platform for Japanese grammar learning that combines the concept of SRS Flashcards.
It has a linear leveled approach that will give you example sentences, quizzes, and lessons for each grammar point that will appear on every level of the JLPT Exam. There is also progress tracking and automatic reminders so if you fall behind in your studying you can easily catch up. The apps for both platforms are currently in beta testing, but if you would like to try it out, it is accessible on the website linked above.
4. Japanese Learning Dictionaries
In this section, we will be introducing to you Japanese-English dictionaries for daily use.
imiwa? (App Store)
A powerful dictionary that allows you to make searches in kanji, kana or romaji. Words are also accompanied by example sentences (with furigana provided) so users can see how it is used in conversations. You can also tap on a word and hear how it's pronounced. Other features include verb conjugation charts, notebooks to keep track of your favorite words, JLTP vocabulary lists and more.
One of its most useful features is the kanji feature. You can search for a kanji character simply by drawing the character directly on the screen. The app also provides helpful guides that allow you to look up kanji by its radicals or strokes. Once you've located the character you're looking for, the app will show you how many strokes the character consists of, and let you practice writing the character as well.
Takoboto (Google Play)
Takoboto is an offline Japanese-English, English-Japanese dictionary and Japanese language learning tool. It includes translations of some words in French, German and Russian and displays example sentences, kanji information and conjugated forms for each word. The words can be searched using kanji, kana, romaji or Latin alphabets. Full sentences and conjugated forms are also recognized. Kanji can be searched by selecting multiple radicals.
Yomiwa (App Store) – Payment required
Yomiwa is a paid modern offline Japanese dictionary, with tons of features to help you read and learn Japanese. Yomiwa's algorithms let you recognize over 4000 Japanese characters in your pictures or with your device camera. Once Japanese text is detected, it is recognized and parsed into words in a fraction of a second. Detailed information of each word and Kanji is then provided such as their pronunciation, conjugation, and their definition into many target languages. Yomiwa is the perfect companion to help you read books, mangas, signs, menu, and improve your Japanese reading skills while enjoying your favorite reading materials. Yomiwa also has a built-in drawing feature for you to draw and translate Japanese characters on your touch-screen with very high accuracy.
Waygo
Waygo and Yomiwa are similar in a way such that they aren't conventional dictionaries, but will come in handy when it comes to kanji translation.
Both apps work similarly: Users can take a picture or select one from their photo albums and the apps will translate any kanji in the picture into English.
Both applications work offline. Yomiwa can read horizontal and vertical text, while Waygo can translate text from Mandarin and Cantonese as well. However, Waygo's free version allows only up to 10 translations per day.
5. Japanese Social Apps (Games/SNS)
In this portion of the post, we will be introducing some games that you can play to learn Japanese. At the same time, we will be introducing a common Japanese social networking platform where you can keep yourself updated with trends in Japanese.
Studystack
If simplicity is your aim, but still looking to play a few games to avoid the monotony of memorization, Study Stack is here for you. No thrills or extensive customization settings, it gets right down to business.
Hangman is one of the featured games, and if words prove too tough to guess you can tap the strangling hangman for a hint.  There are many other games available such as the classic game "snake" — if your snake had to correlate the correct Japanese food to a word, memorize it and then eat it. At first, it had me just as confused as you are reading this description. The UI feels a little buggy (no pun intended), but it gets the job done. If these still aren't simple or dry enough for you, there's still a pairs matching game and a crossword you can do.
Pocket Colony
Pocket Colony is a popular app in Japan where users can create their own mini "pockatar" that lives in a virtual world. Much like other applications (like LINE PLAY), you and your pockatar can complete quests together, play games, dress up and model a home for yourself. There is a large Japanese presence on this application, and if you're up for the challenge, you can download the application in Japanese as well.
You can chat in the message boards or travel through different worlds to meet and befriend potential language partners. English support is only available on the iOS version at this time.
Ameba
Ameba is a popular blogging website in Japan. Like many social networking sites, Ameba is convenient and on the go. Their application allows you to stay updated with your favorite bands, fashion icons or video games in Japanese.
The biggest benefit of using Ameba is that you'll be able to maintain a blog in Japanese and find native speakers who share similar interests. This can be a great way to discover new talents in Japan, make friends with native speakers, learn internet slang or record a dairy in Japanese and look back on your improvements later. What you write about and the amount of writing you do is completely up to you so feel free to explore!
6. Digital Japanese Penpals
Last but not least, we will be introducing some apps that you can make use of to find a native Japanese that you can speak or write to. This not only helps with improving your Japanese skills but you could also make a new friend! So when you come visit Japan, you can invite them out!
Lext Talk (App Store)
Lext Talk is an application that allows users to connect with people from around the world. Once your profile is complete, you can select which language you speak and which language you'd like to learn.
A very convenient feature that Lext Talk offers is its map. Users can browse and navigate through Lext Talk's map for language partners in their area, or find a partner in a specific region. That means things get a whole lot easier if you're looking for someone who speaks 関西方言 (Kansai dialect). Lext Talk also provides chatrooms with various themes like "Let's Learn English" or "Jpop Fans United", where you can meet friends with similar interests and chat in your desired language.
Doongle (Google Play)
Liked the sound of Lext Talk but you have an Android phone? Don't worry, there's a similar app for all you Android users too! Introducing Doongle: an app that allows its users to share voice messages, photos and more. Like other language exchange apps, you can easily browse maps to find a language partner in the same area, or in a selected region.
This application also allows you to filter through its users' profiles so you can easily find someone within your age group, who lives in your city or next travel destination, or even someone who shares the same interest in kabuki. Doongle also offers a group chat feature, where you can talk about English grammar or share tips on how to make a mean okonomiyaki with others.
Hello Talk
HelloTalk is a language exchange application that allows you to talk with others from around the world. You can write a brief summary about yourself in your profile, choose your native language and select the language and level that you're currently learning. Thereafter, you're able to search for native language partners from around the world! HelloTalk is immensely popular with many users who are eager to start a language exchange.
The platform that you use to chat is very much like any other texting application. What sets HelloTalk apart from similar language exchange apps are some of its useful features. Native speakers can edit your messages and correct your grammar while you chat together about AKB48's upcoming concert. Users are also able to transcribe a voice message, so you're not always reading and writing, but can practice speech and comprehension as well.
With that, this concludes our list of recommendations for the 20 Japanese Learning apps on the go! We hope you will be able to try them out and all the best in your Japanese studies!
Japanese Writing
Skritter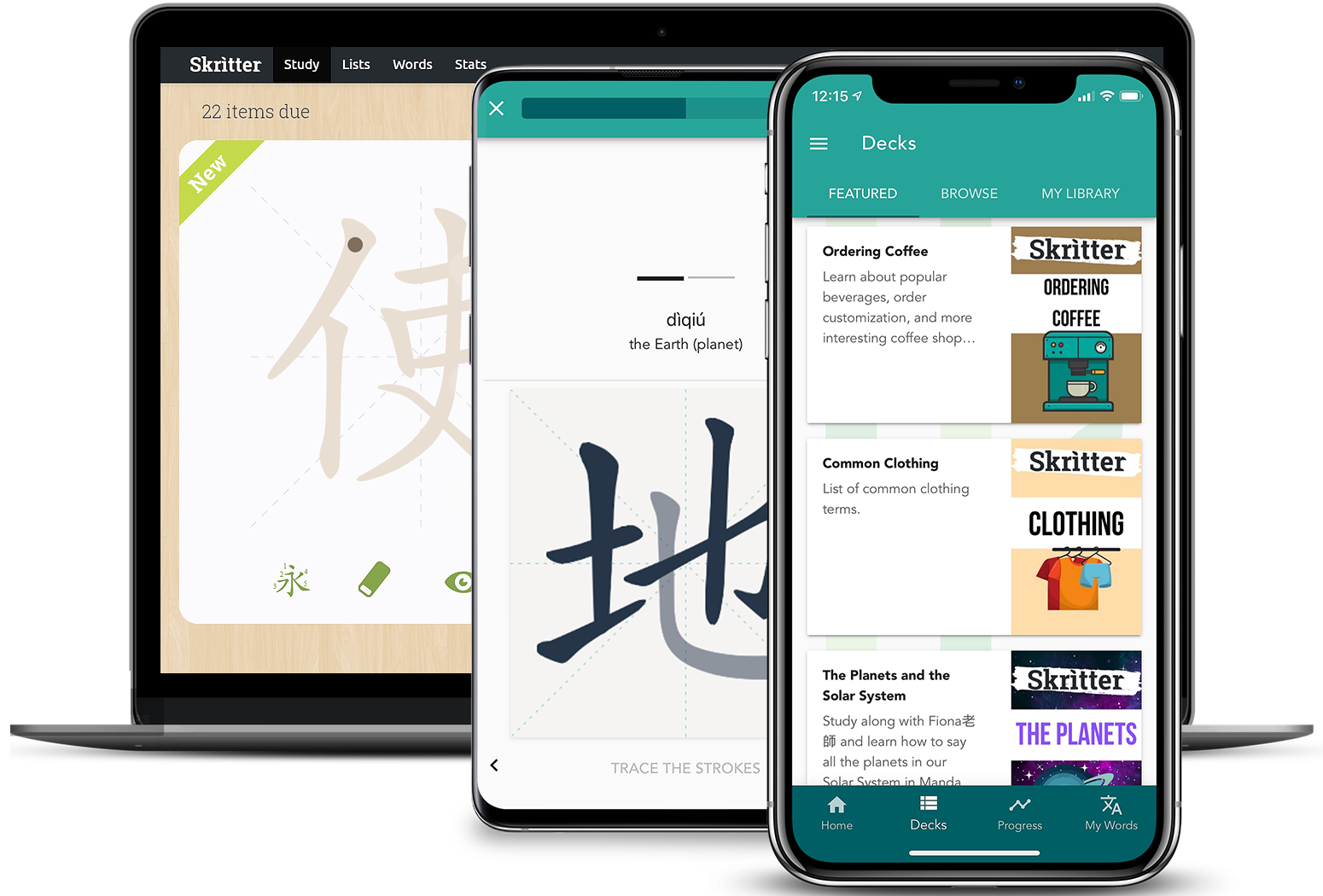 Skritter is a great app that combines handwriting input with flashcards – you can use it to learn both Japanese and Chinese – the Japanese version of the app is getting better every day and is well supported by a company that cares deeply about improving it.
If applications aren't your thing, here are some video games you can consider playing to learn some Japanese as well!
Click to tweet and share this article with more Japanese learners!
Want to find out more about Coto Japanese Academy? Send us an inquiry and try taking a look at the various Japanese Language Courses we offer!